I feel like I'll be thinking "give or take" every time I write that heading. There's way too much waiting right now. Waiting for our realtor to tell us what we need to improve in order to make it easy for him to get a great sale price... waiting for our realtor to tell us what he thinks he can get and how quickly... waiting for people to start listing houses for sale in our target area.. I'm not sure. I don't feel like I should be waiting, I feel like I should be doing more now, but it's tough. Today got sucked up with bill paying and getting Quicken up-to-date. And family stuff. And this cold that still plagues me. I'm impatient and frustrated. I think I need to take the timeline we created and break it down into much smaller pieces.
I am breaking even on my calories (day 3) and I did thin out my wardrobe slightly in advance of the move (decluttering).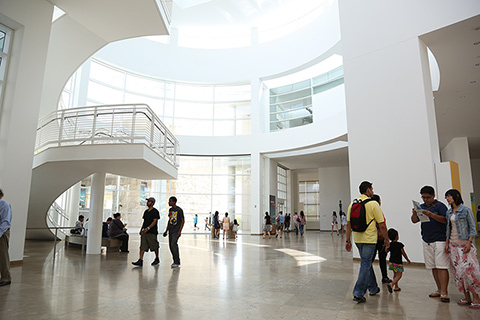 The Getty Center
opened while I lived in L.A., it was a big deal. It took months to get a parking reservation. I got one, but then for some reason, I was unable to attend. I never got around to getting back to it. I'm looking forward to visiting The Getty Center.